Sailing Adventures on Vim
compiled May 2015
My sailing career, if you want to call it that, was a checkered journey that began with the impulse purchase of a 16' beach catamaran, which I sailed on Galveston Bay. In hindsight, this was the best sailing I ever did. At the time, I didn't know a halyard from a hawsepipe, but the fullfillment of getting out on the water, in a simple manner, and going fast was hard to beat.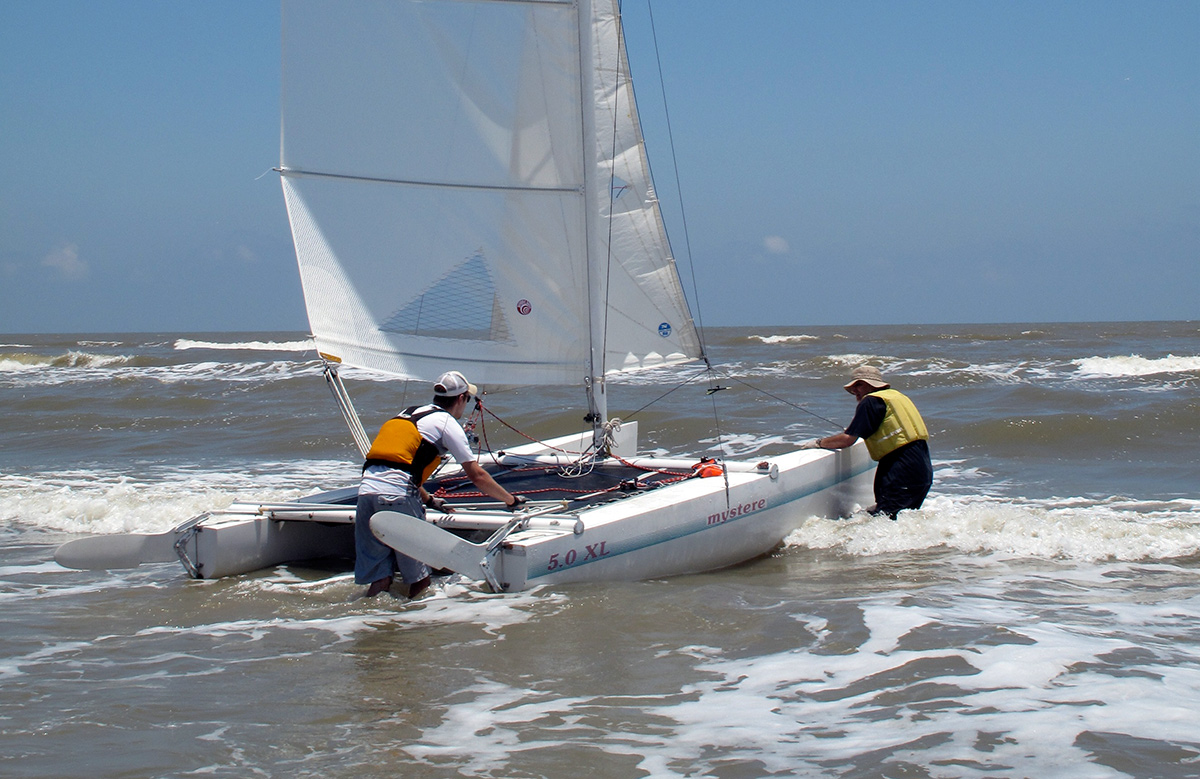 In 2010 I moved to Seattle and lived on a houseboat on Lake Union, where I also docked a little Laser that I would sail in the evenings. On Wednesdays I raced in the Duck Dodge, and often beat much larger boats with crew. It usually happened that there wasn't much wind, which meant — if I was stealthy and unscrupulous — that I could skull the rudder to make way. Other times the wind was strong, and my little boat would plane and out maneuever the larger keelboats in the crowded lake.
This was the time when I really learned to sail, because every control line had an obvious effect and the consequences of a mistake meant you got wet.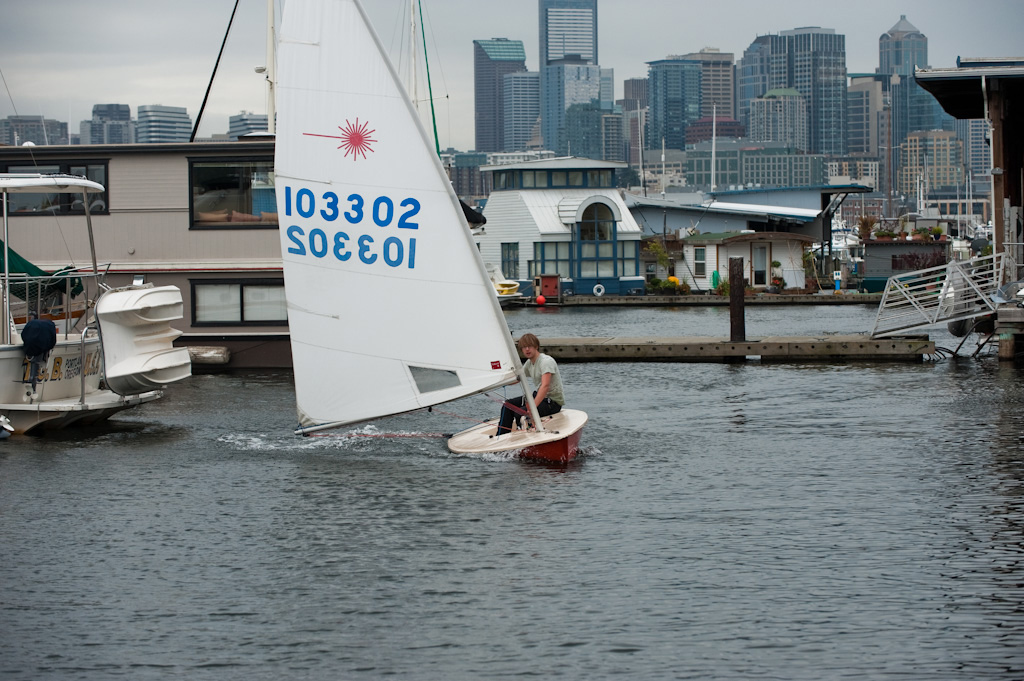 And, in 2011 I couldn't help myself and bought a really beaten-up Yankee 30 sloop off Craigslist for $1,500. At first glance it seemed to be okay shape, but it wasn't, and I didn't know any better. I took it sailing straight away, and made all the usual beginner mistakes: running aground; letting the outboard motor get doused by a wave; not paying attention to the weather forecast; letting halyards fly up the mast; overriding sheets on the winch; and so forth.
The boat's name was originally "Vim" so I kept it — not because it's bad luck to change a boat's name, but because I liked it. I'm sure the original owner understood it in the sense of vim and vigor, but Vim is also the name of the popular and influential text editor that I use for my computer programming, so I enjoyed the harmony of it all.
The Yankee 30 actually has a fantastic reputation among classic boat enthusiasts. It was well-built, with fast lines, a fantastic balance, that — in its day — made it a top-tier ocean racer. It also has many circumnavigations to credit its seaworthiness.
Underneath all the mildew, I thought my boat had excellent qualities, and so I began to refit it — spending a couple days per week working to fix the sort of things that you have to do on a sailboat. Mainly I worked on the boat because I was interested in the work itself, but I wanted to feel like I had a purpose too.
So I installed new rigging, new chainplates, portlights, a head, and replaced two bulkheads. I replaced all the electrical wiring, and replaced the lighting fixtures on the mast. I added a new windvane, a new antenna, a new stove, and new cushions, among hundreds of other, smaller things. It was a lot of work.
Doing the mastwork, in particular, was a real chore. We had to dock the boat in another marina, employ a crane, and spend days trying to snake wires up and down the length of a 40' aluminum tube.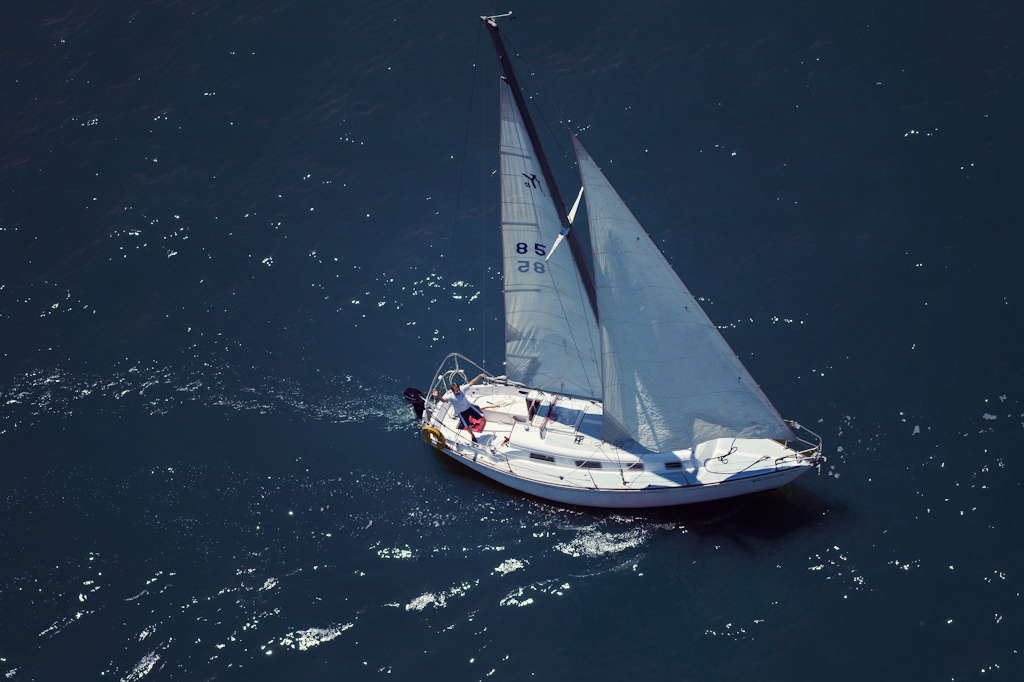 After all the work was done, I think it turned out pretty nice. I sold the boat in December 2014. For keepsake, I still have the sale sheet page hosted.
More Photos & Video
My friend Wade shot a stellar video while we were motoring out into the Bay:
The best fun was swinging on the spinnaker halyard: